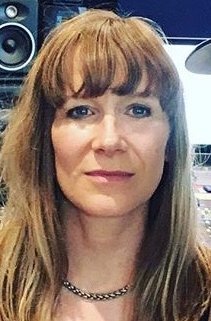 Emily has co-written three top ten UK hits with Rizzlekicks and John Newman, as well as a US top three hit with Big Time Rush. Other recent projects include writing with Shura, Nicole Sherzinger, McFly, L Devine, Maddison Beer and SOAK.
We asked Emily some questions to help aspiring young songwriters on their songwriting journey.
How old were you when you wrote your first song?  I was 12 when I wrote my first song
What was your first song about?  It was a collaboration with my girlband at school. The song was called "Golden Boy", it was about putting love in a halo!
Who inspired you to start songwriting?  A mixture of Pete Townsend (The Who) – he was a Dad of one of my band members when I was a kid.  Then after a 10 year gap of writing, I got back into writing in my 20's. Daman Albarn (Blur, Gorillaz) was my flatmate and encouraged me to write.
What's your favourite song you've ever written?  My favourite song is "Everybody Loves You" which I co-wrote with Soak (Rough Trade Records). We wrote it last year at the piano.
How easy did you find it to get your music heard?  I had a band in my 20's and we did a lot of gigs and had an indie following, so playing live was one way to be heard.  It wasn't until I was signed to SonyATV publishing a few years later as a writer when I had releases with much better known artists. Through them, the songs I was co-writing were heard.
What's your biggest regret as a young songwriter?  I haven't always stayed true to my instincts. In the beginning it was the only force driving the writing, but as success came with time, I found that some songs were written with an industry head on rather than heart. There is a difference between thinking something is good, and feeling that it's good. Now with the benefit of hindsight I can see how important it is again to listen carefully to that inner voice and not be distracted by predicting or wishing for a certain outcome.
What are your top tips for aspiring songwriters?  Before a session, I find it helpful to write a stream of consciousness, – to encourage free flow of ideas and not edit anything. This process helps keep a fertile imagination. Confidence in sessions comes with the ability to express the feeling or thoughts you have in your mind, without caring about them being wrong or bad. All ideas are welcome before deciding on the best.  Be kind to your fellow writers and encourage each other!!
What do you especially like about The Young Songwriter competition?  It's a fantastic way to encourage young aspiring songwriters to do their very best and aim for great art.
Are you aged 8-18?  Have you written your own songs?  Then enter The Young Songwriter 2019 competition!
https://www.songacademy.co.uk/wp-content/uploads/2018/11/Emily-Phillips.jpg
333
211
songacad
https://www.songacademy.co.uk/wp-content/uploads/2015/01/masterlogo1.png
songacad
2019-02-05 22:31:40
2019-02-05 22:32:09
Learn from SAYS19 judge, Emily Phillips