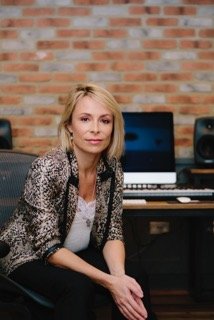 It's a great privilege that Miranda Cooper is on The Young Songwriter 2019 competition judging panel.  At one point Miranda's songs spent more years on the UK chart than any other female songwriter in the UK and she has penned 4 number one hits – 'Round Round', 'Hole in the Head' for the Sugababes and 'Sound of the Underground' And 'The Promise' for Girls Aloud.
How old were you when you wrote your first song?  My Dad bought my sister and me a tiny Casio keyboard when I was about 8. We used to muck about on it and write little songs. We also used to write "symphonies" on the piano. The "Woodland symphony" which included the "Dance of the trout" was an early highlight!
What was your first song about?  The first song I remember from around that time had the memorable line "The sun was as big as a yellow balloon and all I ever knew was you". I can still remember it now so maybe it was actually pretty hooky.
My first actual proper song was written on a backing track that Brian Higgins had given me. I'm not quite sure how I knew what to do but it just seemed to flow out of me!! It was called Cherry Red Scooter! It was pretty out there lyrically but it was enough for Brian to want to start collaborating.
Who inspired you to start songwriting?  To be honest I had no idea it was even a possible career choice when I was growing up. I trained as a dancer and did some TV presenting and ended up in female pop duo. But I really just felt like I was treading water until I was introduced to Brian Higgins, who had seen me dancing on the Eurovision Song Contest. He gave me a couple of backing tracks to write on and something just clicked. I felt like I'd finally found my "thing".
What's your favourite song you've ever written?  I have a soft spot for Call the Shots. I wrote the chorus in a hotel room in Paris, 2 years before the girls recorded it. We just didn't feel they were ready for it at the time. We then wrote the verses in a hotel in LA and I finished the lyric by the pool at the Sunset Marquee hotel. So that song has some rather exotic memories.  I also loved The Promise. We had the piece of music for a while and just knew it was killer. We wrote it on a gorgeous summer's day and it practically wrote itself!
How easy did you find it to get your music heard?  I was very lucky to start my song writing career with Brian who had a huge worldwide hit with Cher's Believe a year after we met. As a result he had access to pretty much every label and manager and our music always got a good listen.
What's your biggest regret as a young songwriter?  I actually don't have any regrets. I think even the things I perceived as mistakes at the time were actually hugely helpful in hindsight. We were all making it up as we went along and there were some amazing highs and some desperate lows. Having Brian there to protect us from a lot of the industry helped alot. It meant we could just focus on the writing.  I had a pretty big fear of failure which wasn't always easy to live with but I think it helped push me the extra mile on many occasions.
What are your top tips for aspiring songwriters?  Firstly I would say just do what you love and don't worry about what anybody else thinks…..to a point.  When I started at Xeno there were just 4 of us and we holed up in Brian's garden shed (thankfully converted into a studio!) and just wrote from the heart. There was no internet and we were in the middle of darkest Kent so nothing to distract. We were basically in our little bubble and breaking the rules left right and centre. It was a pretty idyllic time.
When I started out I would write the songs in my head walking to the gym and then come in and work out the chords with Brian.  Eventually some amazing multi instrumentalists joined Xeno and made incredible instrumental backing tracks. We'd write melodies on 5 or 10 of them at a time. Just like a melodic stream of consciousness, trying to better each idea we came up with.
I'd constantly write down concepts and lyric ideas and try them out on the different tracks. When a great lyric, melody and track clicked we were onto something.  We had the luxury of time and would start some ideas and then revisit them days, weeks, months or even years later.  We'd only finish the ideas that got us really excited.  And we actively tried not to repeat ourselves.
Don't try and work with too many people. Find the collaborators you really connect with and spend more time with them. Good stuff always happens when you're having fun! It finds its way into the music.
What do you especially like about The Young Songwriter competition?
I really want to support anything that gives a platform to young songwriters nowadays. There's more music out there than ever but it's also harder to get heard. I'm very excited to hear the songs that make it through to the final.
Are you aged 8-18?  Have you written your own songs?  Then enter The Young Songwriter 2019 competition!
https://www.songacademy.co.uk/wp-content/uploads/2018/11/Miranda-Cooper.jpeg
320
214
songacad
https://www.songacademy.co.uk/wp-content/uploads/2015/01/masterlogo1.png
songacad
2019-02-05 22:18:59
2019-02-05 22:18:59
Learn from SAYS19 judge, Miranda Cooper