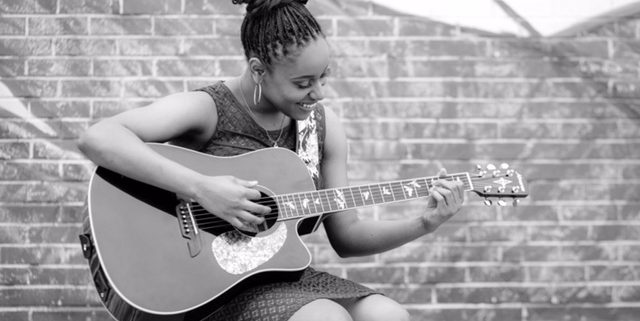 Congratulations to Karrington, SAYS17 Finalist with her original song 'Summer Dream'.  Here's a bit about Karrington and her songwriting.
What inspired you to write 'Summer Dream'?  There are times when I look at myself and think that all the obstacles in my everyday life can suffocate my positive way of thinking. I also hate the pressure that society puts on young people to look or act a certain way and stamp that as "perfect". This song is my own commentary on persevering through those times of being down and looking at the bright side of things. "Summer Dream" is a metaphor for the realm of thinking where all things are possible and all types of uniqueness and personalities are accepted and appreciated by the individual that possess any traits that are supposedly undesired or not good enough, and is also a place where a person can feel special and not be bothered by the excess negativity that the world has to offer. I hope this song can make people feel accepted, happy, and motivated to get through a hard day so they can reach their very own "Summer Dream!"
How long have you been writing songs? I have been writing songs since I was 14, so about 4 years
How did you get into songwriting? I started playing guitar at age 11 and for years I played cover songs. After awhile I began writing my own material because I felt somewhat bored with only doing cover songs. I has fun playing cover songs, but wanted express my own personal feeling through my own arrangements
What does songwriting allow you to explore and achieve? Songwriting allows me to express me feelings and imaginations. I am able to venture into another world when I am singing and playing the guitar to the songs that I write. There is no other activity that I have experienced that enables me to explore not only my self but also my perspective of the world around me. I hope to provide my listeners with the same dream-like experience while also connecting with my listeners on a personal level. I want people to not just listen to my lyrics, but "feel" my lyrics.
What's your favourite part of the songwriting process? My favorite part about the songwriting process is those moments when I am playing a chords and I start singing what ever comes to my mind. Usually in the beginning what I sing is not cohesive, but the beauty behind that is the process of making the song from literally nothing. Also, i enjoy having to continuously search for the most meaningful words in order to get my message. Though at times I can not find the right words, it is extremely rewarding to see the finished product in contrast to how the origins of thew song.
What is the most difficult part of the creative process of songwriting for you? The most difficult part about the songwriting process for me is overcoming writer's block. When I can't think of the right word/music combination that I envision in my mind, I tend to get very frustrated and doubtful.
Do you start with lyrics or melodies/chords? 95% of the time I start a song with chords. This allows me to hear possible melodies to fit the "attitude" of the song. It is more difficult for me to come up with chords from lyrics alone because believe approach songs as the music being the foundation and the lyrics being the cherry on top!
What do you like about Song Academy and our Young Songwriter Competition? I love the fact that the Song Academy strives to keep music alive within young people through the development of songwriting. This also allows for better songs to enjoy in the future. I like that the competition promotes the songs entries to the public in order for the great young talents to be shared with the world.
What are your 3 favourite artists/ songs? My three favorite artists are Lianne La Havas, John Mayer, and Lauryn Hill
15 years from now you will be… I hope to be performing my songs as an artist, writing , and producing for other artists in the music industry.
What do you like to do when you're not writing songs? I love to play basketball!
Have a listen to all our top ten SAYS17 finalists

Our SAYS17 winners will be announced on the 8th May at 12pm on our Twitter channel.
Come & watch the top young songwriters from across the UK and Ireland perform @WestfieldLondon, Southern Terrace in the Young Songwriter 2017 competition live showcase on Sunday 4th June, 2-5pm. Around 50 performers including winners, finalists & highly commended entrants, aged 8-18 will perform! #savethedate #newgeneration #talent #youngsongwriters #freeevent
Full line-up to be announced shortly.
https://www.songacademy.co.uk/wp-content/uploads/2017/04/Karrington-Donald-Summer-Dream.jpeg
428
640
songacad
https://www.songacademy.co.uk/wp-content/uploads/2015/01/masterlogo1.png
songacad
2017-04-26 22:01:00
2017-05-08 13:47:36
SAYS17 Finalist, Karrington Donald aged 18 from Houston USA