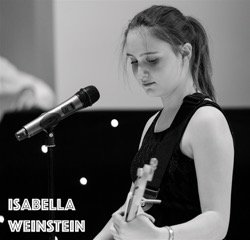 Congratulations to Isabella for being a Young Songwriter 2018 Finalist with her song 'Bad Boy'.  Here's a bit about Isabella and her songwriting.
What inspired you to write your SAYS18 finalist song 'Bad Boy'?  I've been told I have this thing called 'izzy mentality' where I write songs that seem very 'bubbly and happy and not too mature' so I decided to prove them wrong.
How long have you been writing songs?  I have been writing songs since I was 10 years old.
How did you get into songwriting?  On my 10th birthday I went to Sticky Fingers with my best friend at the time and she had bought me a notebook. I love notebooks and I wanted to use it for something special. It took me a while but I finally decided I would use it to write songs. I was only 10 so my songwriting wasn't exactly perfect yet but at the time I thought it was great. About a year later I went to my first concert with another great friend and she had tickets to Taylor Swift (the Red tour) in the O2. I had heard of Taylor Swift and I knew her most popular songs like 'I Knew You Were Trouble' and 'We Are Never Ever Getting Back Together' but it wasn't until that night that I fell in love with her music and writing. I even started trying to write like her once I figured out how to play the piano and guitar but my style changed a bit a few years later. Since then I haven't stopped writing – and I'm up to over 100 songs.
What does songwriting allow you to explore and achieve?  It allows me to explore different styles of music which I've actually come to love. Until I was about 14 I stuck to slow paced country songs, which shifted to country pop and since, I've written a disco song, a few rock songs and a couple of pop songs, but more than anything it lets me often put my thoughts down on paper. Sometimes it's my melodically diary.
What's your favourite part of the songwriting process?  I think my favourite part is trying to put secret messages into the lyrics because I love it when people try to figure out who the song is about.
What's the most difficult part of the creative process of songwriting for you?  I think for me sometimes figuring out what the song should be about is the hardest part if I do not have anything too busy going on in my mind, because I have written so many different songs already. Finding new chord progressions is often difficult.
Do you start with lyrics or melodies/chords?  I tend to start with the chords and put a melody to it so that I have an idea about what it's meant to sound like. I then add the lyrics.
What do you like about Song Academy and our Young Songwriter competition? I really enjoy the term classes and I love them because I always learn something new, whether its how to write like a different artist or a different genre or some of the different laws in the industry such as copyright. In terms of the competition, I like that people from all over the world can upload their songs to be heard by professionals. Listening to the other songs people upload is also great because they are incredible, so I'm always rooting for my favourites to be in the finalists too.
Who are your three favourite artists/songs?  I love too many songs and artists to have three favourite but I can definitely confirm that Taylor Swift is my number one favourite at the moment and has been for years. I do also really like Selena Gomez and Scouting For Girls along with so many others.
15 years from now you will be…  To be honest, I have no idea what I will be. I could be a criminologist, a lawyer, a doctor, really anything. I can tell you what I do want, I want to be up on a stage singing one of my songs and hold the mic out to hear thousands of people screaming the lyrics.
What's your favourite thing to do when you're not writing songs?  I love hanging out with my friends and going to the gym and sometimes I just want to chill and watch Grey's Anatomy.
Our SAYS18 winners will be announced on the 14th May at 6pm (GMT) on our Twitter channel.
Come & watch the top young songwriters from across the UK and Ireland perform @WestfieldLondon, Shepherd's Bush in the Young Songwriter 2018 live showcase on Sunday 10th June, 2-5pm. Around 40 performers including winners, finalists & highly commended entrants, aged 8-18 will perform! #savethedate #newgeneration #talent #youngsongwriters #songwriting #newmusic #freeevent #SAYS18
Full line-up to be announced shortly.
https://www.songacademy.co.uk/wp-content/uploads/2018/04/Isabella-Weinstein.jpeg
240
250
songacad
https://www.songacademy.co.uk/wp-content/uploads/2015/01/masterlogo1.png
songacad
2018-04-28 21:50:58
2018-04-30 10:27:54
SAYS18 Finalist, Isabella Weinstein, aged 14 from Kensington