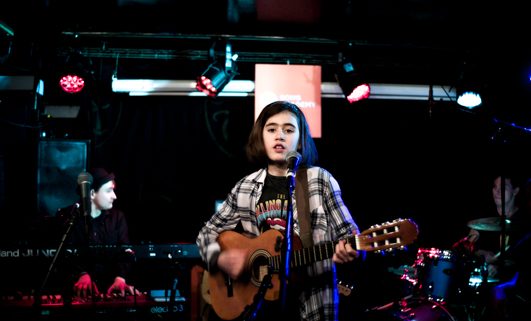 Congratulations to Laetitia for being a Young Songwriter 2018 Finalist with her song 'One Bad Day Won't Bring Me Down'.  Here's a bit about Laetitia and her songwriting.
What inspired you to write your SAYS18 finalist song 'One Bad Day Won't Bring Me Down? One Bad Day Won't Bring Me Down is about how clumsy I am on a very day basis. I am sure a lot of people can relate to these mistakes I talk about in my song. This is why I wrote this song to tell everyone to calm down and relax because this won't bring us down. We think about being happy unlucky but I realised that I was the one making these mistakes, so changed it.
How long have you been writing songs?  I've been writing songs for the past 4 years. When I was 8 years old, my first song was about bats, but I lost the script in my mess. So far I have written about 15 songs and I've gotten better at it over time. Song Academy has helped me take my song writing to another level by introducing me to different genres and techniques. So I like best the three recent ones: Technology, But One Bad Day Won't Bring Me Down and New Year.
How did you get into songwriting?  When I first started out learning the guitar, I soon got bored of playing the songs in the guitar books. I prefer to learn the guitar to express the music that's already in my head. Thankfully Lou Vilstrup, my guitar teacher, offered to teach me how to write songs, as she is a singer song writer herself with her band Dear Joy. So instead of teaching me scales, she introduced me to the songwriting world.
What does songwriting allow you to explore and achieve?  I often struggle to say what I want to say when I'm in the moment. Songwriting allows me to express my emotions clearly to the outside world. When I write a new song, I normally feel excited and thrilled about the message. When I've written the song, I'm relieved and feel complete.
What's your favourite part of the songwriting process?  My favourite part of song writing is working on the melody while under the shower.
What's the most difficult part of the creative process of songwriting for you?  To me, the most difficult part is polishing the song once I am happy with the rough ideas. I think that's why my songs can sometimes be a bit rough and straight forward. Or maybe I just like it like that. I like 80s rock because it has so much energy and that's what I want my music to be about.
Do you start with lyrics or melodies/chords?  I generally start with the chords, but sometimes I first find the theme. I'll be sitting with the guitar somewhere exploring chord progressions until I find one that interests me. I'll then typically just start singing what comes to my mind and first write it all down. So at the beginning all I'll have is a set of chord progressions and collection of often unrelated phrases that don't yet make any sense. When I come back to it, the hard part starts.
What do you like about Song Academy and our Young Songwriter competition?   I like Song Academy because they help me become a better artist. They also help me perform my songs, record them and spread them across the world. Song Academy also give me a chance to meet other songwriters. During sessions we all learn from each other and the atmosphere is very nice and helpful. It is great to able to compare my songs to others and to try out new techniques.
Who are your three favourite artists/songs?   My three favourite songs/artists are: Of Monsters And Men, Pink Floyd and John Mayor's Bigger Than My Body.
15 years from now you will be… Happily writing songs about my feelings and experiences and anything else that I find important. Apart from that I think it is to soon for me to think about that. Right now all I want to do is write and play music.
What's your favourite thing to do when you're not writing songs?  When I am not writing songs I love to play outside in our communal garden with my neighbours. Spending time with my friends is my favourite thing to do. They are an important piece of my life, because they make me laugh.
Our SAYS18 winners will be announced on the 14th May at 6pm (GMT) on our Twitter channel.
Come & watch the top young songwriters from across the UK and Ireland perform @WestfieldLondon, Shepherd's Bush in the Young Songwriter 2018 live showcase on Sunday 10th June, 2-5pm. Around 40 performers including winners, finalists & highly commended entrants, aged 8-18 will perform! #savethedate #newgeneration #talent #youngsongwriters #songwriting #newmusic #freeevent #SAYS18
Full line-up to be announced shortly.
https://www.songacademy.co.uk/wp-content/uploads/2018/05/Laetitia-Felix1.jpg
353
531
songacad
https://www.songacademy.co.uk/wp-content/uploads/2015/01/masterlogo1.png
songacad
2018-04-28 21:42:35
2018-05-01 05:29:50
SAYS18 Finalist, Laetitia Felix, aged 12 from Holland Park, Kensington