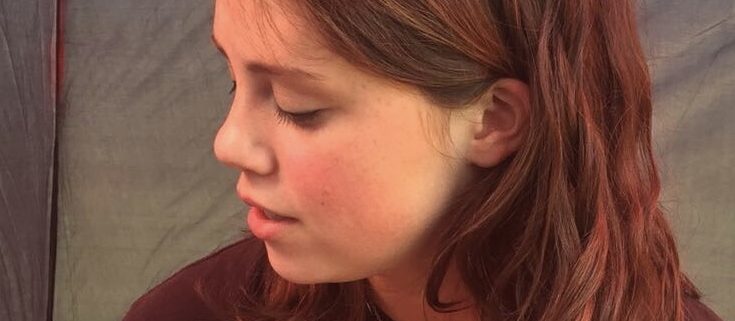 Congratulations to Matilda for being a Young Songwriter 2018 Finalist with her song 'Like Lava'.  Here's a bit about Matilda and her songwriting.
What inspired you to write your SAYS18 finalist song 'Like Lava?  I was watching a David Attenborough documentary, about mountains and volcanoes, and the photography shots of the lava flowing was just so mesmerising that all I could think about was what it would be like to touch it, but of course I have some intelligence and I know you can't touch lava cause you will definitely get severly burnt. Although it did get me thinking that it would be a great way to describe someone; Someone who looks so stunning and you can't take your eyes off them, but if you get too close to them (physically or emotionally) you're inevitably gonna get hurt. Also, just before watching this documentary, I found out a boy I had secretly liked, liked me back, but as I started to spend more time with him, I got more and more worried I was going to mess it up, so I ended up pushing him away.
 Laura Marling has always inspired me in every song I write as I am in love with the structure of her songs and the harmonies she incorporates, which is why "Like Lava" is just me playing the guitar, so it highlights the harmonies and lyrics, which is what I always find most important in a song.
How long have you been writing songs? I started writing songs when I was 11 with some of my friends.
How did you get into songwriting?  I've always had a passion for music and after having some piano lessons I found that I liked putting some words to chords I had made up. I find it a great way to express myself.
What does songwriting allow you to explore and achieve?  I love being creative and so when building a song I learn how to craft my lyrics and structure, which I am usually influenced by other artists.
What's your favourite part of the songwriting process?  My favourite part of song writing is coming up with the lyrics. To me the lyrics are the most important part of any song and I usually spend the most time on that part of the process.
What's the most difficult part of the creative process of songwriting for you?  I don't have particularly good skills when it comes to adding other instruments to my songs, such as drums or producing it well, as I don't have particularly good equipment for recording, so it seems to limit the types of songs I can make.
Do you start with lyrics or melodies/chords?  I will usually start will the chords and work the melody and lyrics on top of it.
What do you like about Song Academy and our Young Songwriter competition?  I like that it gives young people the chance to show everyone the work they've done and the prizes it offers are amazing when it comes down to bettering your songs and getting them heard by more people.
Who are your three favourite artists/songs?  I'm very heavily influenced by female artists when it comes to my song writing, so defiantly artists like ‪The Staves, ‪Laura Marling, ‪Joni Mitchell and Nora Jones are just a few.
15 years from now you will be… Hopefully recording my songs or potentially writing lyrics for other artists.
What's your favourite thing to do when you're not writing songs?  I have a great love for film, so I really enjoy making short videos and I've made a few of my own music videos.
Our SAYS18 winners will be announced on the 14th May at 6pm (GMT) on our Twitter channel.
Come & watch the top young songwriters from across the UK and Ireland perform @WestfieldLondon, Shepherd's Bush in the Young Songwriter 2018 live showcase on Sunday 10th June, 2-5pm. Around 40 performers including winners, finalists & highly commended entrants, aged 8-18 will perform! #savethedate #newgeneration #talent #youngsongwriters #songwriting #newmusic #freeevent #SAYS18
Full line-up to be announced shortly.
https://www.songacademy.co.uk/wp-content/uploads/2018/04/Matilda-Mann-e1525167117477.jpg
790
735
songacad
https://www.songacademy.co.uk/wp-content/uploads/2015/01/masterlogo1.png
songacad
2018-04-28 21:24:35
2018-05-11 21:18:21
SAYS18 Finalist, Matilda Mann, aged 18 from Hammersmith