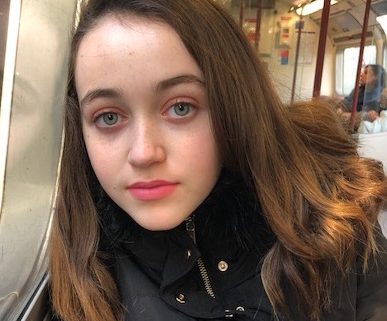 Congratulations to Mia for being a Young Songwriter 2018 Finalist with her song 'City'.  Here's a bit about Mia and her songwriting.
What inspired you to write your SAYS18 finalist song 'City?  I wrote this song about the city I live in, which is London. I wrote this song because some people don't understand how amazing the city is and I wanted to share that with everyone. When I thought of the song, I was on the train and I was listening to the sounds around me and that's when I wanted to write a song about it. I made the song about the city in a positive view so that people could see how beautiful and breathtaking it really is.
How long have you been writing songs?  Since I was about 7!
How did you get into songwriting?  I just kind of feel like it runs in my family and I really enjoy it.
What does songwriting allow you to explore and achieve?  It allows me to kind of write down anything I feel and put it into a song. I can explore ideas and feelings that are otherwise hard to express. It helps me achieve being free.
What's your favourite part of the songwriting process?  My favourite part is singing a new song all the way through for the first time and coming up with the melody.
What's the most difficult part of the creative process of songwriting for you?  Lyrics! I really have to use my brain to come up with amazing powerful lyrics.
Do you start with lyrics or melodies/chords?  Melodies and chords, definitely.
What do you like about Song Academy and our Young Songwriter competition?  I like that it's not being judged on your background, it's about the songwriting not you as a person.
Who are your three favourite artists/songs?  Birdy, Wheatus, Tame Impala.
15 years from now you will be… I'll be 27 so I'll be performing music in local areas and teaching children how to become a successful songwriter and artist. Not Grades, I just want to teach them how to be creative.
What's your favourite thing to do when you're not writing songs?  I love to get a tub of ice cream from the freezer and lie in my bed and watch movies! Or I go out with my friends!
Our SAYS18 winners will be announced on the 14th May at 6pm (GMT) on our Twitter channel.
Come & watch the top young songwriters from across the UK and Ireland perform @WestfieldLondon, Shepherd's Bush in the Young Songwriter 2018 live showcase on Sunday 10th June, 2-5pm. Around 40 performers including winners, finalists & highly commended entrants, aged 8-18 will perform! #savethedate #newgeneration #talent #youngsongwriters #songwriting #newmusic #freeevent #SAYS18
Full line-up to be announced shortly.
Young Songwriter 2018 Press Release Finalists Announced
https://www.songacademy.co.uk/wp-content/uploads/2018/04/Mia-Bran-copy.jpg
388
387
songacad
https://www.songacademy.co.uk/wp-content/uploads/2015/01/masterlogo1.png
songacad
2018-04-29 09:47:32
2018-04-30 10:26:04
SAYS18 Finalist, Mia Bran, aged 12 from Kensal Green, Brent