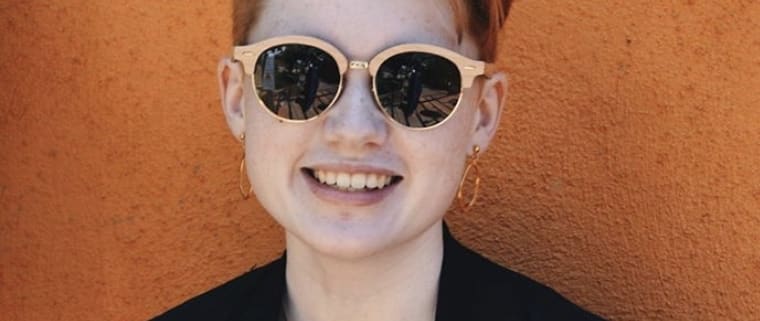 Pip Lewis is 17 years old from San Diego, USA and her song 'Missing In Action' was selected as a top 10 song in The Song Academy Young Songwriter 2020 competition International category.  We caught up with Pip recently to talk about all things songwriting!
What inspired you to write your song?   I had learnt about Guantanamo Bay Detention Center from my Government teacher. He told me about two innocent men called Lahkdar Boumediene and Mustafa Ait Idir who were detained and tortured there for seven years. All of the proceeds go to Mr. Boumediene and Mr. Ait Idir for their reparation fund. "Missing In Action" is the ballad of the voices that have been ignored and silenced over the years. It is my hope that when people listen to my song, they remember the names and stories of those who have suffered at the hands of our country, and share them.
What got you into writing songs?  I began writing songs during my move from the United Kingdom to California. It was a particularly difficult period of time for me. Writing songs was often the driving force for me to push through my mental health issues that arose following the move.
What is your favourite part of the songwriting process?  My favorite part of the songwriting process is getting the song to a point where I really start to love it. I adore watching it evolve from something so simple to something multidimensional and complex – it's very rewarding.
Describe your setup that you used to write your #SAYS20 entry, was it just a pen and paper or a fully kitted out studio? I wrote the song in my bedroom. I started by arranging some MIDI tracks and laying down some vocal tracks. I tweaked everything from there, and mixed it until it sounded right. I don't have a very elaborate studio, just a two input interface and a mic in an untreated room. It works for me, though, and I'm inordinately grateful to have it.
How do you usually start a song? How do you find that spark?  I usually wait for the spark to come to me. I've found over the couple of years that I've been making songs that one can't force art to fabricate itself. It comes to me when it's ready, and I do my best to make it into something beautiful, informative, and relatable.
Who would be your dream artist/writer/band to collaborate with? I'd love to collaborate with Maggie Rogers; she has the most stunning personality that radiates from each song she creates. The way she's transformed the traditional/commercial pop sound to something intimate and natural is admirable!
What made you enter #SAYS20? How did you hear about it?  I believe it popped up on my Instagram Explore page, I saved it and applied a few weeks later. I was (and still am) intensely passionate about spreading awareness about current events – particularly Lahkdar Boumediene and Mustafa Ait Idir's story. I wanted to share in any way possible.
What would you say to someone aged 8-18 who is thinking about entering the Song Academy Young Songwriter competition next year? Do you have any tips for them?  Don't hesitate! You can only gain knowledge from experiences like these. Your songs can only get better. The more chances you take on wonderful opportunities like these, the more likely it is that one of them will pay off!
What are your favourite other entries from this year's competition? Who out of the other entrants (it doesn't have to be a finalist!) would you like to collaborate with?  I absolutely LOVED "Searching" by Rachel Burnett. It's such a unique song, and her voice is heartbreakingly beautiful. The way it's arranged is haunting; she has such an evocative style. I was also stoked to see her other song, "Call Me Baby", made it to the final, too. I'd love to collaborate with her. I also really enjoyed listening to Jo MacKenzie's "I Should Come With A Warning Sign." It's such an emotional and atmospheric song. It was thought provoking, and interesting to listen to.
What do you like about the Song Academy Young Songwriter competition?  I love that it gave me an opportunity to tell more people about a cause that means a lot to me. Not only that, but I've found some incredibly talented individuals that I can support! I think holding a competition like this is a genius way to get a look in on the best songwriters of the new generation. Thank you for allowing me to be a part of such an incredible process!
Make sure you hear the latest Young Songwriter 2020 news first by following our social media channels – Instagram, Facebook  and Twitter.
https://www.songacademy.co.uk/wp-content/uploads/2020/04/Pip-Lewis-Missing-In-Action.jpg
688
760
songacad
https://www.songacademy.co.uk/wp-content/uploads/2015/01/masterlogo1.png
songacad
2020-04-28 22:45:41
2020-05-03 13:33:33
Special feature on SAYS20 top 10 finalist Pip Lewis