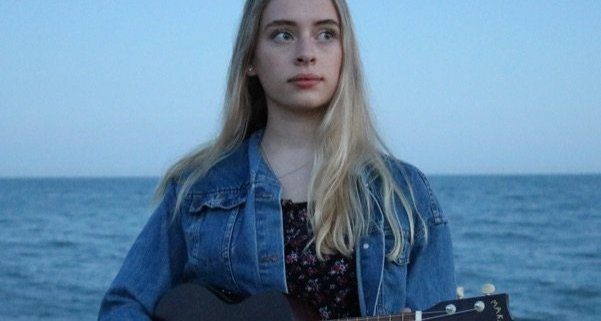 Lotte Pearl is 17 years old from Brighton and her song 'Jet Black Hair' was selected as a top 60 song in The Song Academy Young Songwriter 2020 competition 13-18 year UK/Ireland category.  We caught up with Lotte recently to talk about all things songwriting!
What inspired you to write your song?  I watched a black and white film with my family, the romance between the two love interests inspired me. I wanted to interpret the love story into a song using the general imagery and colour imagery from the movie.
What got you into writing songs?  The earliest memory I have of writing songs, was when I was around 7 or 8 when I remember singing to myself and making up melodies. When I was about 13, I opened up garage band and started creating clunky songs. Then at 14, one day I impulsively picked up my old guitar and started bashing out songs.
What is your favourite part of the songwriting process?  My favourite part is creating the tune and accompaniment, I find it incredibly satisfying when a tune excites me.
Describe your setup that you used to write your #SAYS20 entry, was it just a pen and paper or a fully kitted out studio?  I wrote the melody and the accompaniment with just my guitar and singing, then I sung a first draft of the lyrics and created more drafts on my notepad on my phone. Then I recorded it on Garage band using a mixer and microphone I got for Christmas, I refined and wrote the lyrics to the second verse whilst recording it.
How do you usually start a song? How do you find that spark?  I start by usually by playing a chords or picking some notes on an instrument, I then improvise a singing line to it and create the melody.  I find the spark when if I remember the tune and it makes me feel something. Most of my songs are somewhat catchy because I only remember the catchy melodies, I forget the rest.
Who would be your dream artist/writer/band to collaborate with?  I would love to collaborate with Harry Styles because I love his new style of music. I also absolutely love the Alabama Shakes and would love to play with them, because I think they make the most stunning and spellbinding music.
What made you enter #SAYS20? How did you hear about it?  I won a songwriting competition at my school and they recommended me to apply for this!
What would you say to someone aged 8-18 who is thinking about entering the Song Academy Young Songwriter competition next year? Do you have any tips for them?  Don't overthink everything, just give what you have to offer, don't worry about the result. Just remember your style is unique to you!
What are your favourite other entries from this year's competition? Who out of the other entrants (it doesn't have to be a finalist!) would you like to collaborate with?  I remember listening to a song called Little Alchemy on the SAYS20 entry spotlight by Mia Bran. I really loved it, it has such a great style about it which is similar to songs I usually listen to.
What do you like about the Song Academy Young Songwriter competition?  I like that it's giving a voice to young people and giving the opportunity for your music to be heard and noticed. It gives young people a platform and that is great!
Make sure you hear the latest Young Songwriter 2020 news first by following our social media channels – Instagram, Facebook  and Twitter.
https://www.songacademy.co.uk/wp-content/uploads/2020/04/Lotte-Pearl-Jet-Black-Hair.jpg
480
601
songacad
https://www.songacademy.co.uk/wp-content/uploads/2015/01/masterlogo1.png
songacad
2020-04-28 22:03:08
2020-04-28 22:03:08
Special feature on SAYS20 top 60 finalist Lotte Pearl