The moment you've all been waiting for! Announcing our finalists for The Young Songwriter 2020 competition #SAYS20 in the 8-12 years old UK/Ireland, 13-18 years old UK/Ireland and International categories!
Congratulations to all who have made it through to the next level! Please don't feel disheartened if your name didn't end up on the list, the standard this year was extraordinarily high and our judges had a very difficult time deciding the finalists.
To our finalists, well done, and to all of our other amazing entrants, stay tuned for more opportunities to get involved with Song Academy soon!
There is a top 60 for the 13-18 year UK/Ireland category and top 40s for the 8-12 year UK/Ireland category and the International category.  This year's competition attracted over 700 entries from aspiring young songwriters aged 8-18 across the world. As in previous years, 70% of entrants were girls.
This year's panel of award winning judges includes Tom Odell, Imelda May, Miranda Cooper, Eg White, Emily Philips, Sacha Skarbek, Harley Alexander, Paul Adam, Dan Gillespie Sells, Sodajerker and Janet Devlin. They now have an extremely tough job to choose the winners! The top 10 songs will be announced on the 3rd May, top 3 songs announced on the 2nd June and the winners announced on the 20th June! A live Young Songwriter 2020 showcase is planned for Saturday the 17th November at The Tabernacle, Notting Hill, London.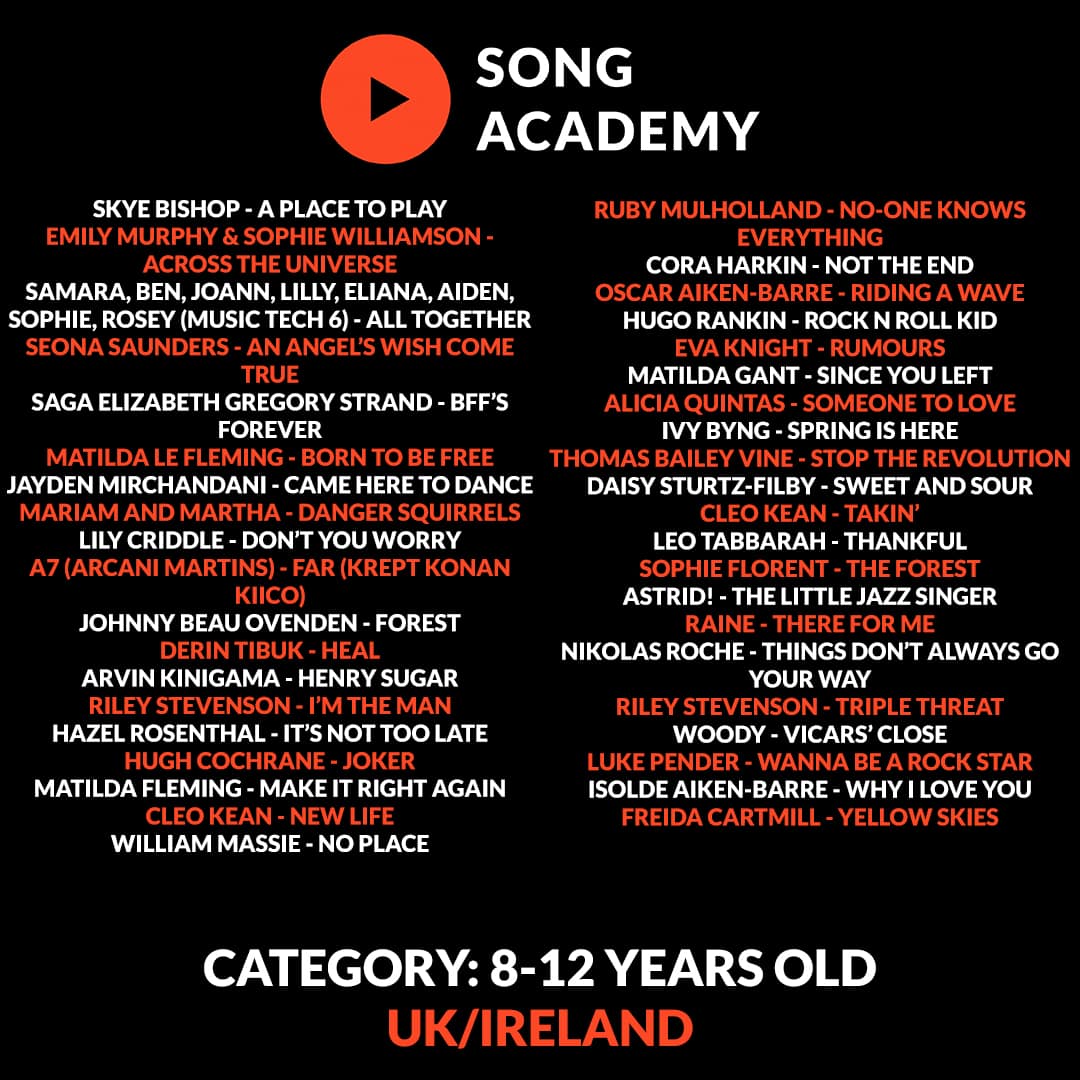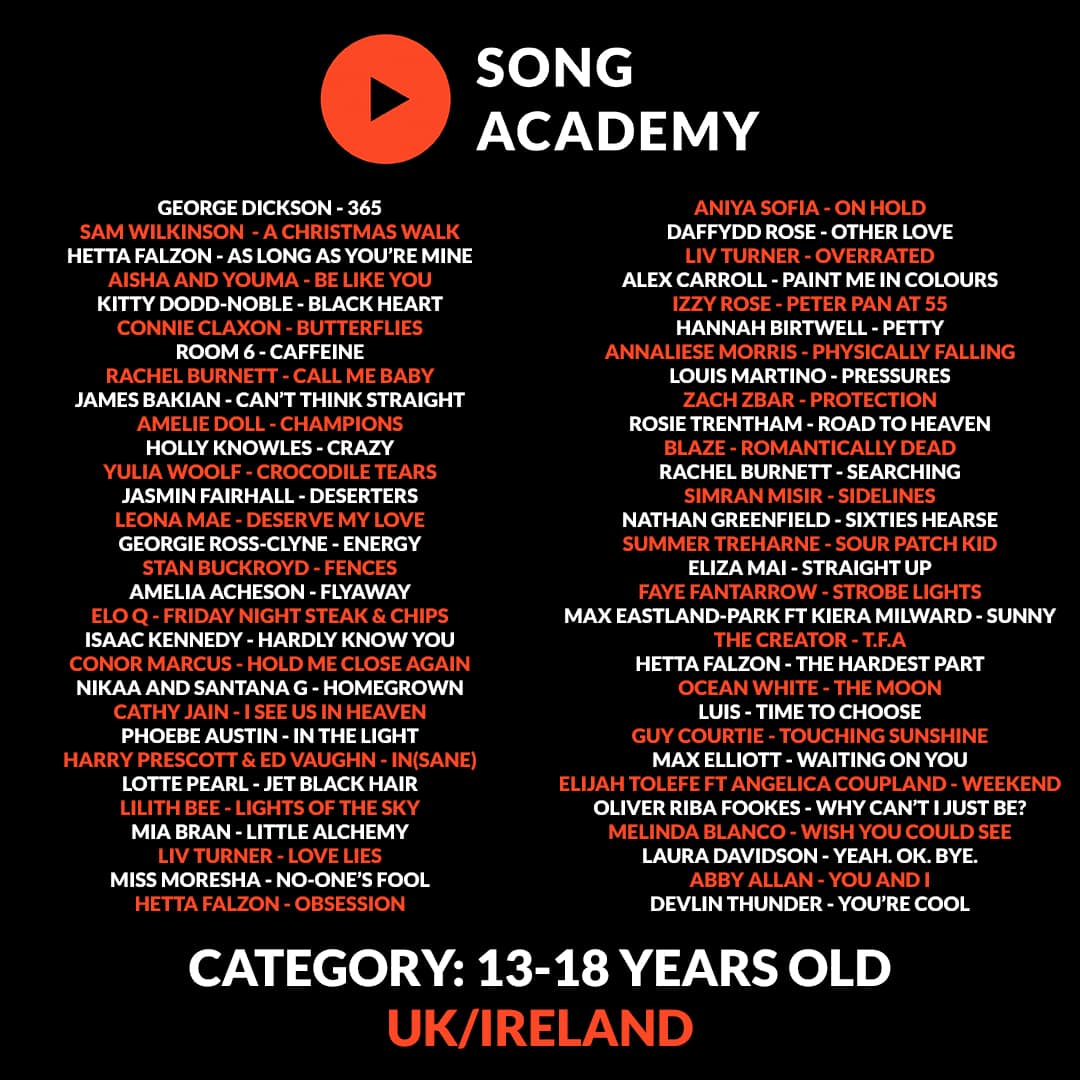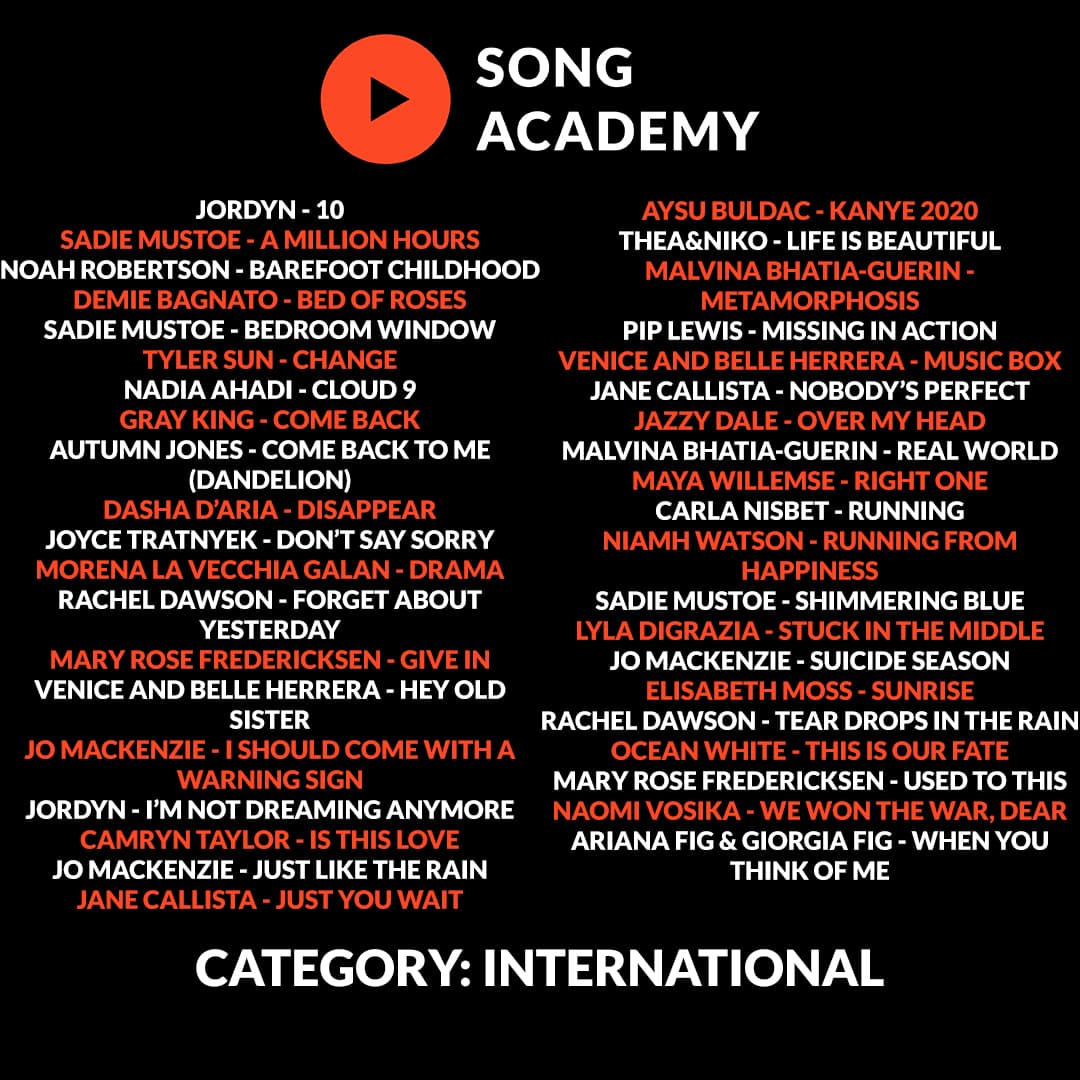 SAYS20 entrants expressed themselves with such power, imagination and creativity, both lyrically and musically, sharing their dreams, their pain, their hope & hearts with the world. There was a wide variety of genres across SAYS20 songs, from folk to jazz, soul, rock, punk, reggae & pop.  Our SAYS20 Finalists SoundCloud playlists are shown below.
One of The Young Songwriter 2020 judges, platinum selling songwriter Emily Phillips listened to all the entries and here's what she had to say.
I have just had the privilege of judging the Young Songwriter 2020 competition.  It has been quite an experience to listen to 700+ original songs written by young people in a short space of time.  Judging these songs was not an exact science, it was moreover a knee jerk reaction to hearing the songs for the first time, and then attempting to evaluate my response. Peoples' reactions to songs vary as we all have our own individual relationship to music, so on that basis, I hope that this process can be understood as a guide rather than a rule.
The values I have been listening out for are: captivating melodies, evocative lyrics, a coherent structure, a catchy chorus, emotive performances, clever use of rhyme, a sense of anticipation, and strong concepts.
The chances of all these attributes ending up in one song are incredibly rare, even in the commercial music world, and beyond. I have co-written over 1000 songs commercially so I know from experience how hard it is to write a great song. That said, even if some or any of these aspects are successfully portrayed in a song, it is likely to keep the listener on board.
I think it is important to also mention that songs which break all the rules and defy any expectations, can be the biggest hits of all. Therefore, in as much as there are so called "rules, they are also there to be broken.
I noticed that a lot of the songs in the category 12-18 were about unrequited love. Given that approx 30,000 songs are released a day worldwide, it is imperative to try to express these common feelings in an original way. Something to look out for with a subject like this could be to offset sad lyrics with a melody or rhythm that contrasts with the mood, so that the song doesn't implode under the weight of its own sadness. Or, if the melody is equally mournful, then present it with elegance and style to carry the weight of the lyric.
Another common theme seemed to be how to feel worthy and self loved. The pressures that modern life puts onto young people is explored over and over in songs, so the more inventive you can be about this issue the better. What a great way to boost self respect and self identity through a song.
A popular theme in the younger category was the state of the planet and awareness of environmental issues. One of the better songs on this subject switched to positivity in the chorus which was a welcome relief to such a heavy narrative. Again, it is amazing that young people can find an outlet for their strong feelings through music. What better way to share the message.
In the younger category, I noticed a recurring lyrical theme of anger and resentment about being abandoned. I wonder if some of these songs were about parents splitting up, and children trying to rationalise their feelings through a song.
Across all categories, there were many songs about aspects of every day life, like an individual, or nature, sunlight, boredom, the stars, – anything. Through lyrics and harmony the seemingly banal can sometimes be lifted onto another plain. It is great to be able to find inspiration in the ordinary.
I urge young people to collaborate on songwriting. Collaboration can be great fun, and you can learn from each other and help edit the best ideas together.   Ed Obrien from RadioHead once said to me, "If music is the greatest of the arts, then we the songwriters are its humble servants". And so, we can only do our very best to try and capture what we consider to be some kind of magic or emotion that we feel must be written. And once we have done that, the next best thing we can hope for is to improve and tweak until that idea is at its best. Then we move on and write another, for it is in the proliferation of art that greatness comes, and with that, joy, hard work and resilience. Success is the ability to fail time and time again with undiminished enthusiasm!
Have a listen to The Young Songwriter 2020 Finalists Songs!
If you are 8-18 year olds and want to develop your songwriting talents please check out our new online songwriting clubs.  Each group has 4 young songwriters of the same age and songwriting abilities/musical experience. Clubs are led by our team of inspiring, professional songwriters, packed full of fun and interesting songwriting briefs and using some exciting technologies to write songs & collaborate across the internet.
https://www.songacademy.co.uk/wp-content/uploads/2020/04/Finalists-Annoucement-Main-Image.jpg
1080
1080
songacad
https://www.songacademy.co.uk/wp-content/uploads/2015/01/masterlogo1.png
songacad
2020-04-22 12:39:48
2020-04-24 14:02:40
Top finalists of The Young Songwriter 2020 competition are revealed!