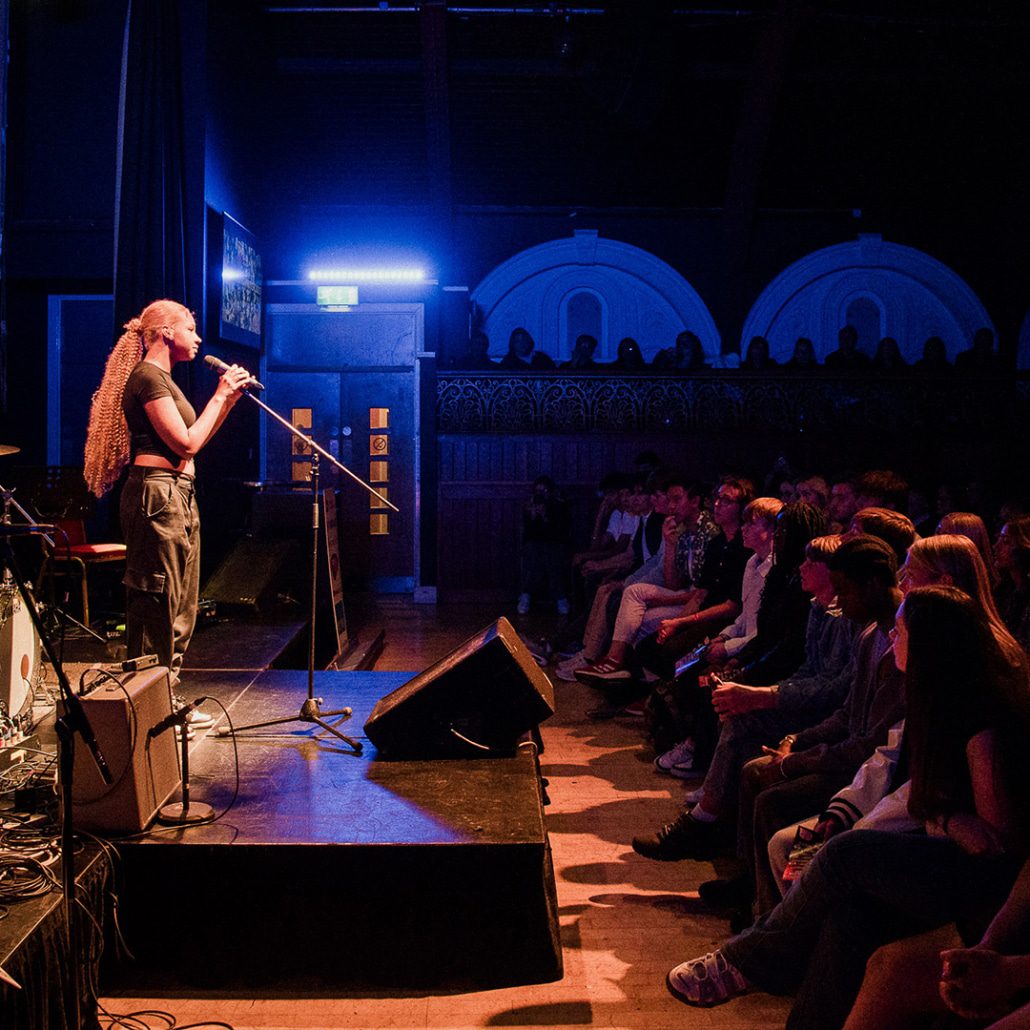 The Young Songwriter 2023 Live Showcase
The Song Academy's nurturing community cultivates a supportive environment for budding young creatives navigating the demands of growing up in today's world. The Young Songwriter 2023 showcase brought together a special community of young songwriters, all saying how important the competition is to them – important in building their confidence, levelling up their songwriting, giving them a platform to express themselves, building friendships with peers and a support network for their musical journey.
The sound of instruments. The golden glow of stage lights. The distant echoes of vocalists warming up, and the hustle and bustle of young creatives as one by one they climb the stage to sound check. 30 young songwriters (the top 10 young songwriters in each age category) of The Young Songwriter 2023 UK section (8-12, 13-15 and 16-18 year olds) are getting ready to perform their original songs.
There's an extraordinary energy that fills the Tabernacle, Notting Hill, that only can be described as electric. Months of creating, producing, writing, fine tuning and rehearsing has led to this pivotal moment for the young performers.
Having made it into the final of The Young Songwriter competition 2023, a mixture of nerves, excitement and anticipation seem to be the overarching emotions felt by the finalists.
When asked how they wrote their songs, the answers seemed to reflect so accurately the spontaneous minds of budding creatives. Some wrote their songs in their bedroom on a whim at three in the morning! Others had been working away at lyrics and melodies they'd had stuck in their head for months.
However, regardless of how these songs were written, what was incredible was to see the final versions performed with such conviction. Especially for some of the younger finalists, where it was their first ever performance in front of a live audience. The confidence that they found, as they navigated each note, was inspiring and evoked a similar response from the audience who overflowed the auditorium as showtime drew closer.
A big thank you to The Young Songwriter 2023 sponsors, Yamaha, Focusrite, YouTube Music, ICMP, Soundtrap and PRS for Music for supporting us to inspire and nurture the next generation of songwriters/artists/producers/young creatives.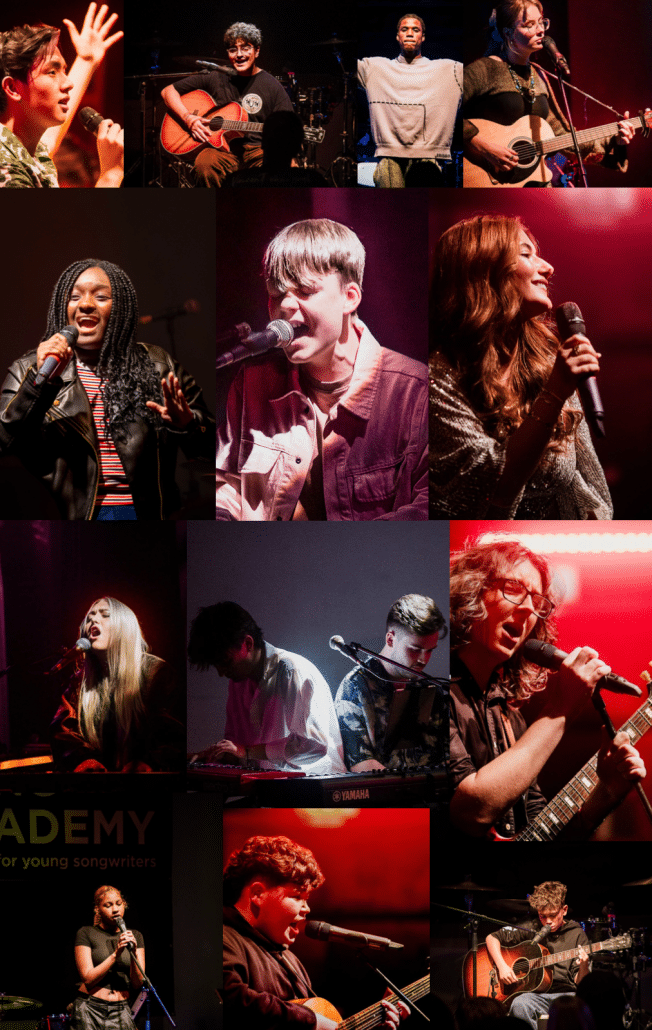 Despite the fact that they were technically each other's competition, the supportiveness found within the conversation of the contestants was a true testament to the encouraging nature of the community that Song Academy has created. Having built strong connections within the music industry now for 14 years, Song Academy has its own identity which is all about nurturing the creative, and you can see that expressed in spades at this event.
This support system seems to be ever more important and relevant as the way art and information are now being digitally consumed is changing so rapidly, and the environment seems to be edging further and further away from protecting the quality of art itself.
With the age of performers ranging from 8-18 years old, the level of maturity across all age groups and subject matters discussed in each song, was a true testament to each writer. A particular stand out was a song written by Kacia aged 16 who created a track delving into the complexities and culture surrounding knife crime. 'Doing it for clout' was a mature and lyrically strong perceptive on a challenging topic. To hear young writers express and explore these heavy subject matters at such a young age, was an insight into a generation clearly aware and conscious of current affairs and their repercussions within a wider context of society.
The Young Songwriter 2023 winners are:
16-18 year old category: Matt Jones – 'Beauty'
13-15 year old category: Macy O – 'Love Rampage'
8-12 year old category: Agnes Bull – 'Cat Laws'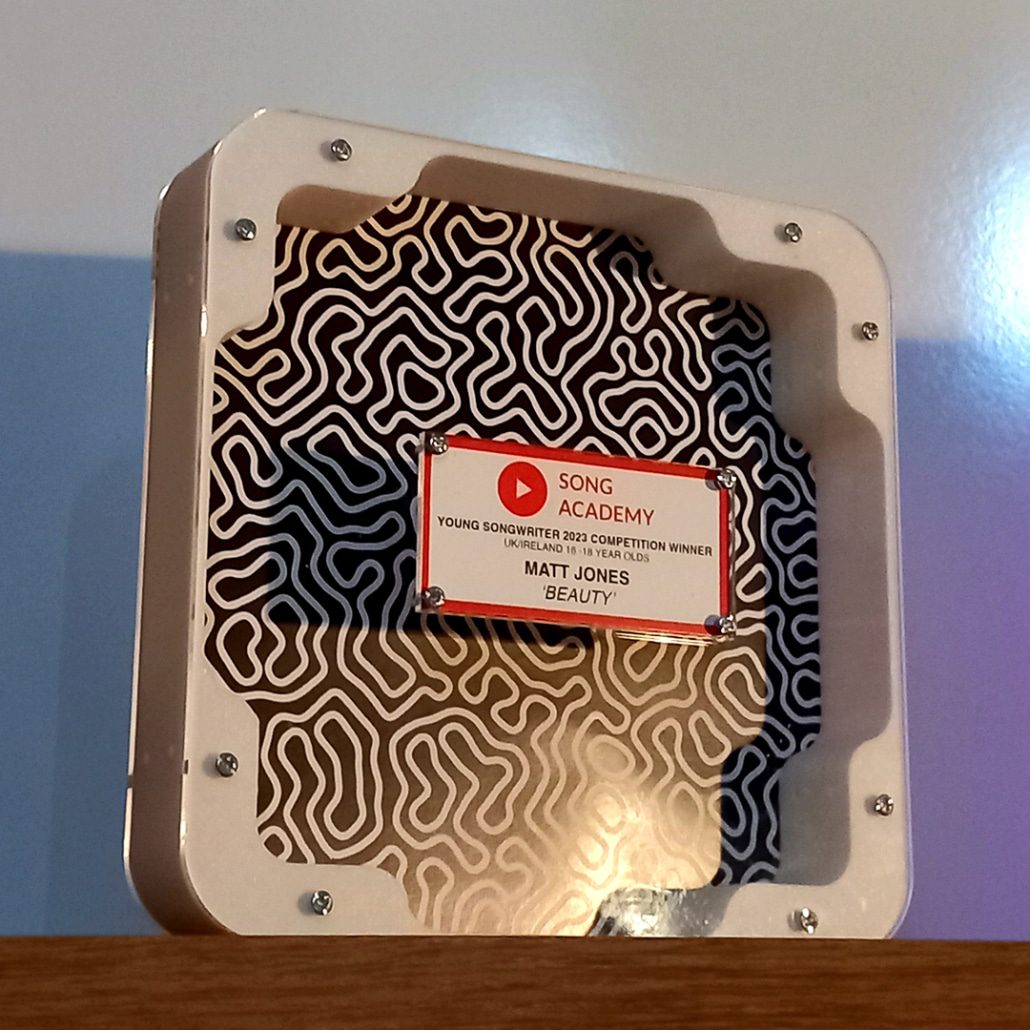 As young creatives enter the industry, Song Academy looks to lay strong roots at the beginning of their musical journey. Nurturing and encouraging each creative, whether they develop into a writer, artist, musician or producer. We can't wait to see what 2024 brings for Song Academy, as well as the young songwriters it supports.
Finnian Feez, designer/songwriter and graduate of Central Saint Martins said at The Young Songwriter 2023 showcase "Each trophy has a different graphic inside them, all similar – signifying your shared goal and love of music, but each is unique, because, you're all unique, and that is something that needs to be celebrated and encouraged to filter into your songwriting.
These empty boxes are a metaphor. They stand for the fact that no physical object will be the reason for you creating a song. Whether a guitar, piano, drum, synthesiser, whichever instrument it is, they're just empty boxes – it's what you have within you that leads to the creation of a song. So these trophies are a token of that message.
The trophies are made from recyclable or compostable materials and can be dismantled and rebuilt to clean or replace parts if needed."
"It feels incredible. I honestly can't believe I'm here, and to think my song made it into the final just feels surreal. Thank you for putting this event on and giving young creatives the chance to express themselves." Isla
https://www.songacademy.co.uk/wp-content/uploads/2023/10/Photo-for-SAYS23-blog-post.jpg
1080
1080
Rowena Atkins
https://www.songacademy.co.uk/wp-content/uploads/2020/11/song-academy.png
Rowena Atkins
2023-10-12 17:23:15
2023-10-31 14:48:15
The Young Songwriter 2023 Live Showcase