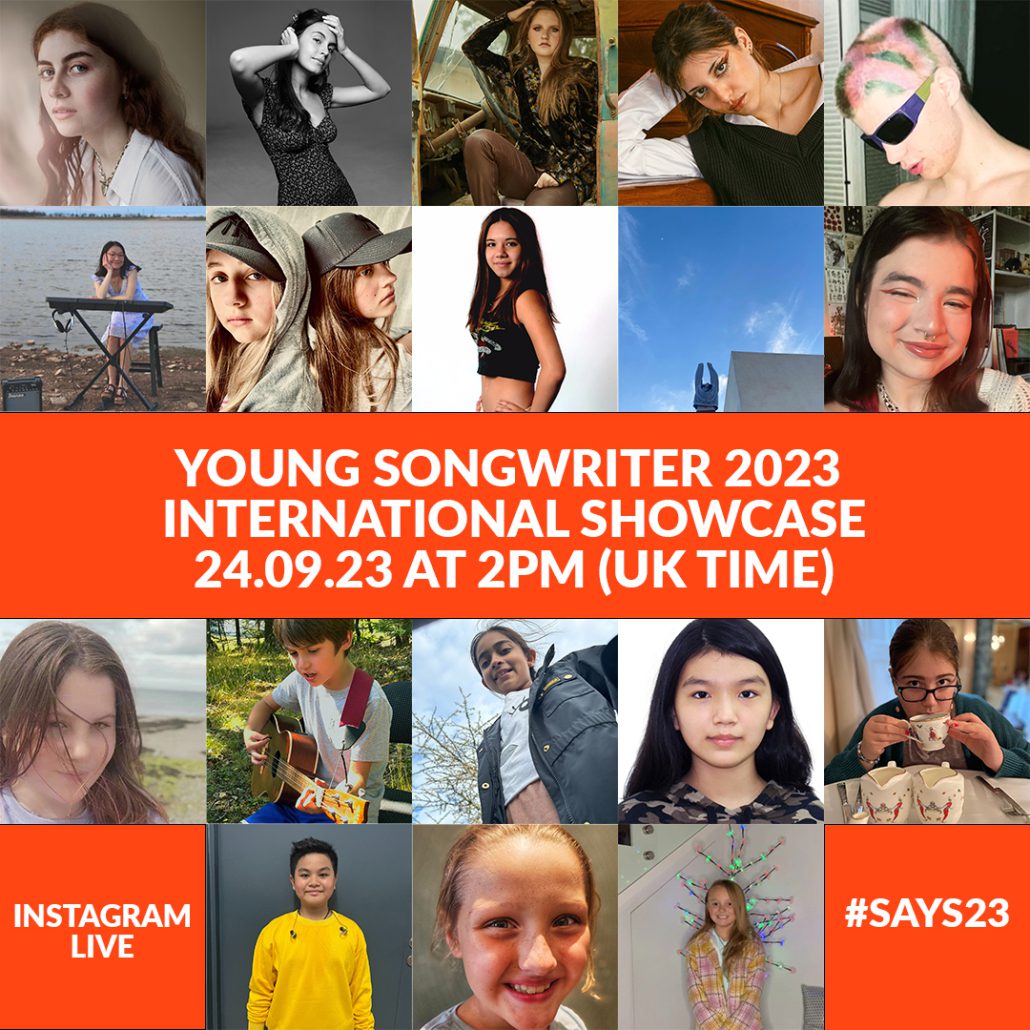 YOUNG SONGWRITER 2023 INTERNATIONAL ONLINE SHOWCASE
A must see event to inspire musical & creative young people around the world! The top 10 finalists of The Song Academy Young Songwriter 2023 competition international categories will perform their original songs and the winners will be announced. Don't miss out, jump onto our instagram live at 2pm UK time on Sunday 24th September!
The showcase celebrates the inventiveness & creativity of young people and the power of songwriting to help young people find their voice and find their tribe. The future is bright and diverse! The Young Songwriter 2023 international showcase can be watched on our instagram account at song_academy from 2pm to 3:30pm UK time. See the list of performers below.
About The Young Songwriter 2023 competition
The Song Academy Young Songwriter competition is the leading international songwriting competition for young people aged 8-18. This year attracted around 1,000 high quality entries. Song Academy gives the unheard youth a voice and platform to express themselves and be heard. The standard of finalist songs entered this year was exceptionally high. To select the top 10 songs we listened for inventiveness, creativity & bravery with lyrics & melodies illuminating our imaginations. Young people have a unique way of expressing themselves, they are a new generation experiencing life in the most vivid and visceral way.
SAYS23 Star Judges include Fraser T Smith, Amy Wadge, Miranda Cooper, Eg White, Jimmy Napes, Emily Phillips, Plested, Hannah V, Sodajerker, Sacha Skarbek and Dan Gillespie Sells.
Official sponsors of The Song Academy Young Songwriter 2023 competition are YouTube Music, Yamaha, Soundtrap, Focusrite, PRS for Music and ICMP.
Fraser T Smith (songwriter, producer and SAYS23 judge) said "With so much going on in the world, it's never been more vital for young people to be able to channel their energy and emotions into something positive, which is what The Young Songwriter competition encourages and facilitates through songwriting. Every young person has something to say, a story to tell, or a message to share – that's why Song Academy is so important to our community."
Tom Odell (singer songwriter and Young Songwriter judge) said "When I was 13 years old I started writing songs, and over the following years I became more and more obsessed with it. But the thing that always kept me awake at night was how to get them out there for people to hear them. This is why I think the Song Academy Young Songwriter competition is a great way to inspire and help through this process, and it's something I wish had been around when I was starting out."
Many of our past finalists are now making waves in the industry, including Gayle, Matilda Mann, Oscar Lang, Lexie Carroll, Cassa Jackson, Oscar Welsh, Natalie Shay, Joshua Shea, Tabitha Jade, Tom A. Smith, Gabriel Dryss, Katie Kittermaster, Gilska, Andrea Turk, Cathy Jain, Sebastian Croft, Daniel McCarthy, Eliza Mai, Miriam Nyarko, Wasia Project, Sophie Griffiths, Rosie Sullivan, Melanie Baker, Alien Blaze, Sweet Mylo, James Bakian, Hetta Falzon, Harry Hatcher, Conor Marcus, Clari Freeman-Taylor, Alex Spencer, Sophie DeMasi & Mullally.    
Young Songwriter 2023 International Performers Line-Up
8-12 YEAR OLD CATEGORY AT 2PM (UK TIME)
ANLI STRYDOM
MISHKA MEHTA
EYLA STEAD
LOUIE PHIPPS
NICKY LAU
YEN HYI & NADYEZHDA WONG
DAVID LEROY SANTOSO
LILIA ASHA WHEELER
CLARA MORGAN
SUN + MOON
13-18 YEAR OLD CATEGORY, STARTING AROUND 2:45PM UK TIME
MIA BENITA
LINDSAY LIEBRO
SOFIA KEMPA
FREDERIC THESIGER
FELICIA HOLMEN
LINA SKALLI
MALAIKA WAINWRIGHT
SWAGSOCKS
VICKY GAO
SUMMER BRENNAN
---
The Young Songwriter 2024 competition is open for entries from the 1st February until the 31st March 2024. Get your songs ready!
https://www.songacademy.co.uk/wp-content/uploads/2023/09/showcase-intl-square.jpg
1080
1080
Rowena Atkins
https://www.songacademy.co.uk/wp-content/uploads/2020/11/song-academy.png
Rowena Atkins
2023-09-02 10:31:01
2023-09-02 10:33:28
YOUNG SONGWRITER 2023 INTERNATIONAL ONLINE SHOWCASE