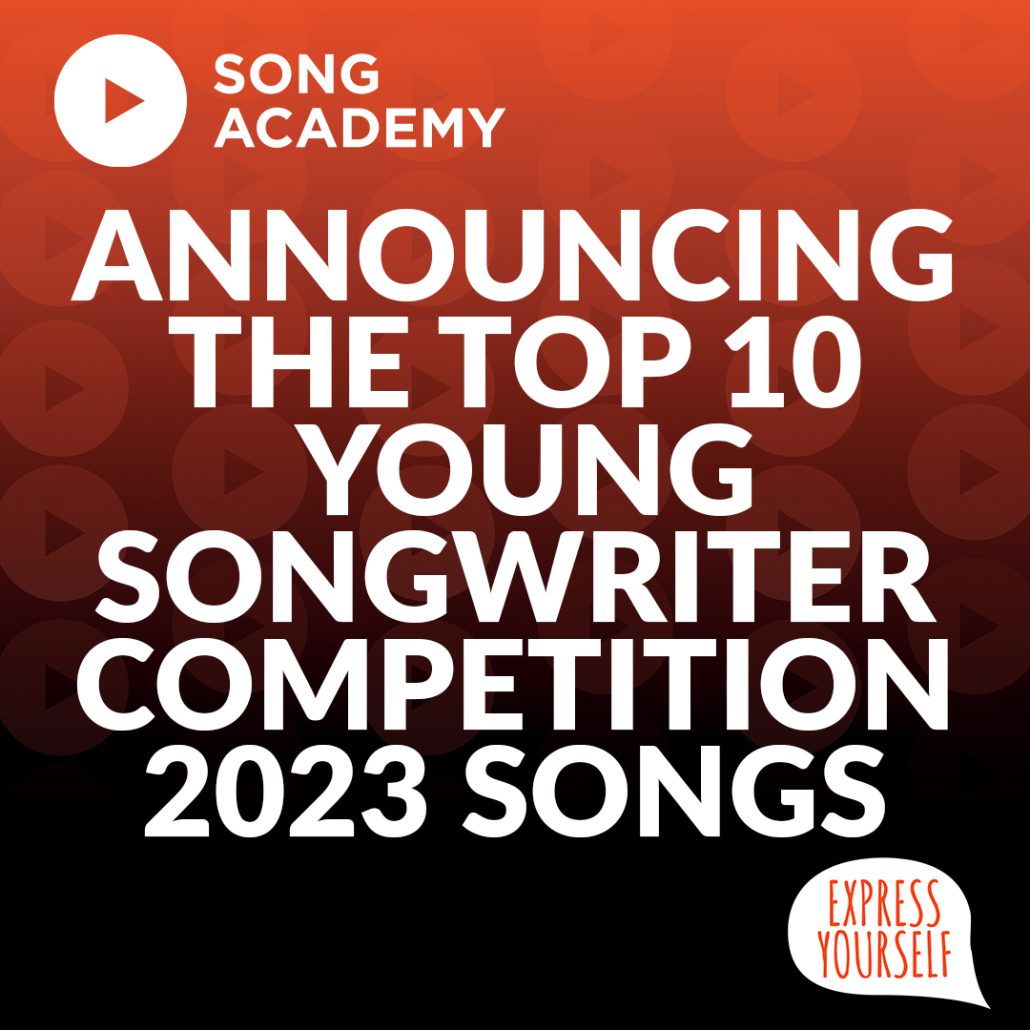 ANNOUNCING THE TOP 10 SONGS OF THE YOUNG SONGWRITER 2023 COMPETITION #SAYS23
PRESS RELEASE
---
SAYS23 Star Judges include Fraser T Smith, Amy Wadge, Calum Scott, Plested, Miranda Cooper, Gracey, Eg White, Jimmy Napes, Emily Phillips, Hannah V, Sodajerker, Sacha Skarbek, Dan Gillespie Sells, Janet Devlin & Simon Aldred.
Drumroll please! The top 10 songs of the hotly contested Song Academy Young Songwriter 2023 competition, in its 13th year, have now been revealed. This year's competition attracted around 1,000 high quality entries from aspiring young songwriters aged 8-18 across the world, both experienced young songwriters and those who've written their first song.  62% of entrants were girls, 32% boys, 6% preferred not to say or had a unique gender identification. Entries were from across the entire UK/Ireland (71%) and around the world (29%). The future of music is bright and diverse!
The top 10 songs in each category of The Young Songwriter 2023 competition are SHOWN BELOW. You can listen to all top 10 songs on the Song Academy SoundCloud account! Plus you can find out more about the top 10 finalists on our blog.
The UK/Ireland winners & runners-up will be announced on Saturday 23rd September 2023 at The Young Songwriter 2023 live showcase held at The Tabernacle, Notting Hill, London. The International winners & runners-up will be announced at the online showcase on Sunday 24th September at 2pm GMT. Stay tuned to our social channels to hear the announcements first!
Emily Phillips, songwriter and lead judge of The Young Songwriter 2023 competition said "Another swift year has passed since the last Song Academy Young Songwriter Competition and nearly 1,000 songs for the 2023 entry have been listened to. This years entries cover an enormous variety of sounds, styles, and lyrical invention. Unrequited love, family relations, social media, self identity and nature are common themes in the lyrics. The songs vary from a simple guitar or piano accompaniment to full on production. My job is to discern the song beyond the performance and beyond the soundscape, which can be very difficult if the song is wrapped up in an irresistible way, and also hard if the presentation is poor. There is no doubt that some great songs are inextricably bound to their sound which gives them the identity we gravitate to, so I hope the judges can be forgiven for loving a song partly because it sounds great.
I can only say that the judging process is not an exact science, and that mistakes will and can be made. In much the same way that the Beatles were turned down by 4 record companies, I will no doubt have inadvertently overlooked a great song. This may be because, some songs require many listens before you realise their secret magic. Anyway, I'm trying to say that no writer in the competition should feel disheartened. A song writer needs to write as many songs as possible, as often times, it's in the proliferation that greatness comes. I also want to stress that the standard of some of the songwriting is astonishing, there is no match for the hubris of youth!
Song Academy and the judges encourage all young songwriters to collaborate. It's fun, and can be a great way to connect with other like-minded young people. Collaboration builds confidence and opens up a world of possibilities. Song Academy is helping to build a community of the next generation of songwriters in the UK and around the world. What a fantastic organisation, I am very proud to be part of it."
Fraser T Smith (songwriter, producer and SAYS23 judge) said "With so much going on in the world, it's never been more vital for young people to be able to channel their energy and emotions into something positive, which is what The Young Songwriter competition encourages and facilitates through songwriting. Every young person has something to say, a story to tell, or a message to share – that's why Song Academy is so important to our community."
Rowena Atkins, Founder of Song Academy said: "The Young Songwriter competition stands for the craft and art of songwriting in its purest form, enabling young songwriters to aspire to the very best melody, lyric, structure, concept, harmony, mood and impact a song can have. We are looking for originality, creativity and musical bravery. We're a supportive community where young people express themselves freely, get their songs heard and connect to like-minded young people. The benefits from this unique community are far reaching, especially the positive boost to mental health."
The next opportunity for young songwriters aged 11-19 (divided into separate age groups) in the UK/Ireland is our new residential Summer songwriting camp from 9th to 12th August 2023, near Guildford, UK. There are a limited number of places available so please contact us soon.
OFFICIAL SPONSORS of The Song Academy Young Songwriter 2023 competition are YouTube Music, Yamaha, Soundtrap, Focusrite, PRS for Music and ICMP.
CATEGORY: UK/IRELAND, 16-18 YEAR OLDS * TOP 10
A THERAPY SESSION IN NORTH CAROLINA – ISLA MAE
BEAUTY – MATT JONES
HARP – SHAAN BHASKAR
HYMN FOR THE HOMESICK KIDS – TAMARA HENDIN
JUST YOU AND ME – COLE LAM
LAZY – SOPHIE FERIANI
LITTLE GIRL – RUBE
SET ME ON FIRE – ROE BYRNE
TTF – JS STARZ
YOU ARE THE LIGHT – ADAM O'CONNOR AND ARLO REDMAN
CATEGORY: UK/IRELAND, 13-15 YEAR OLDS * TOP 10
BACKGROUND GIRL – MADDIE INSTONE
CENTRAL LINE TO TOWN – MIA WILKS
DOING IT FOR CLOUT – KACIA
DOORS – CHARLIE RYAN
DRIVING SEAT – ELI CROSSLEY
FOURTEEN – SKYE BISHOP
LOVE RAMPAGE – MACY O
PATHOLOGICAL LIAR – ELIZABETH EHINFUN
PROMISES AND REGRETS – STUART VEITCH
THESE DAYS – ECHO
CATEGORY: UK/IRELAND, 8-12 YEAR OLDS * TOP 10
BRAND NEW – SHOLTO CAMERON
CAT LAWS – AGNES BULL
H.O.P.E – ISLA HANNETT
HOLD ONTO YOUR BRANCHES – 12 DEERS
I AM FREE – OTTILIE WALLACE
I'LL GO ON AN ADVENTURE – ELISA MCEVOY
KING FOR A DAY – FRANKIE MORLAND
KNEBWORTH – KIT BOTTOMLEY
SUNFLOWER – ELEANOR ROSE HANSON
THE FUTURE'S HAPPENING – OREGON THIA GERRIT
CATEGORY: INTERNATIONAL, 13-18 YEAR OLDS * TOP 10
BILLBOARD CITY – SUMMER BRENNAN
COINCIDENCE – LINDSAY LIEBRO
FIRE – MIA BENITA
HAND – FREDERIC THESIGER
JELLYMAN – SWAGSOCKS
LAST DAY BEING 17 – VICKY GAO
SO HARD – LINA SKALLI
THAT TINY HOUSE IN MY BRAIN – SOFIA KEMPA
THIN ICE – FELICIA HOLMEN
YOU DON'T KNOW ME – MALAIKA WAINWRIGHT
CATEGORY: INTERNATIONAL, 8-12 YEAR OLDS * TOP 10
FLY – EYLA STEAD
GOLDEN LIGHT – MISHKA MEHTA
HUMMINGBIRD – LOUIE PHIPPS
MY HOPE – DAVID LEROY SANTOSO
MY TIME MACHINE – CLARA MORGAN
ONE FAMILY – YEN HYI AND NADYEZHDA WONG
RUNNING AWAY – SUN + MOON
SMILE ME A MELODY – ANLI STRYDOM
STEP BACK – LILIA ASHA WHEELER
WROTE THIS SONG FOR YOU – NICKY LAU
NOTES TO THE EDITORS – SONG ACADEMY OVERVIEW
Founded 14 years ago, Song Academy is dedicated to the future of music and the wellbeing of young people aged 8-18. Our mission is to help children from all backgrounds find their voice and find their tribe, through writing their own original songs at a formative time of their life. We nurture young writers, artists, musicians, producers and creative thinkers, empowering young people to achieve their full potential and shape their future.
Our focus is on the craft of songwriting, creating lyrics and music. We believe that songwriting and music can transform the lives of young people. Young people are growing up in a competitive, fast-changing and potentially isolating environment, leaving them vulnerable to various pressures and issues with their mental health. Songwriting enables young people to communicate their thoughts and feelings and connect to others. Through this creative and therapeutic process, they can discover their identity, overcome challenges, feel empowered, and advance their general writing and social skills. Not only can the songs they write advance potential musical careers, but also spark debate, build connection with peers and shape their future.
Song Academy runs after-school clubs, holiday workshops, school workshops, birthday parties, a Summer residential songwriting camp and an annual international Young Songwriter competition. As a result of our programmes, we have seen an increase in confidence, self-esteem, creativity, motivation, well-being and technical songwriting ability of our members.
Email: rowena@songacademy.co.uk. Tel: 07710 023743
https://www.songacademy.co.uk/wp-content/uploads/2023/05/SAYS23-top-10-finalists-MAIN.jpg
1080
1080
Rowena Atkins
https://www.songacademy.co.uk/wp-content/uploads/2020/11/song-academy.png
Rowena Atkins
2023-05-12 11:47:19
2023-05-18 12:12:33
ANNOUNCING THE TOP 10 SONGS OF THE YOUNG SONGWRITER 2023 COMPETITION #SAYS23