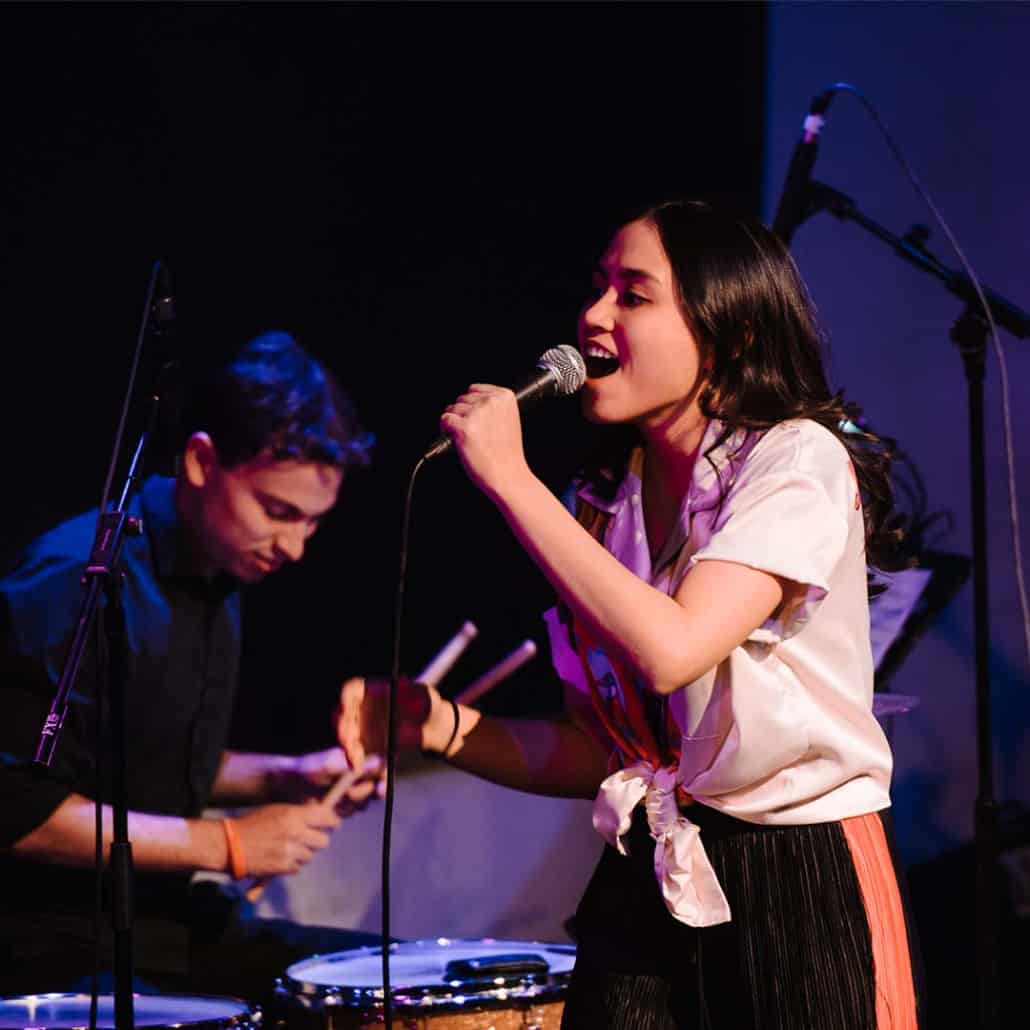 Spotlight on the Pop song genre
The aim of our spotlights on different song genres is to make it easy for Music teachers to bring to life the different contemporary music styles.  In addition, for English teachers to have the knowledge and a great instrumental track for pupils to write song lyrics in a style of music they choose.
The terms popular music and pop music are often used interchangeably, although the former describes all music that is popular and includes many disparate styles. During the 1950s and 1960s, pop music encompassed rock and roll and the youth-oriented styles it influenced. Rock and pop music remained roughly synonymous until the late 1960s, after which pop became associated with music that was more commercial, and accessible. Since then Pop evolved, following the development of new technologies and social trends. While Rock continued its evolution to harder genres and Jazz's success was already far from the popular big bands in the 1930s with its evolution too complex for the masses, Pop´s goal was to write songs that everyone could sing to.
This hasn't changed since then although Pop has been influenced by other genres like EDM, Hiphop, RnB with their success in the charts.
We've looked at some of the key features of instrumentation, rhythm & beat and chords & harmonies in Pop songs.  Plus we've selected some Pop songs to have a listen to.  Pupils can use our demonstration instrumental track to write their lyrics & melodies over.
Instrumentation
Pop is so wide, it includes almost everything. There could be acoustic instruments as well as digital. Some productions even use traditional instruments from exotic countries worldwide. As long as it sounds fresh and interesting, there are no rules.
Rhythm and Beat
Pop includes dance songs but also ballads. The rhythms can be influenced by any other music genres.
Chords and Harmonies
Like for the Rhythm, Pop has been influenced by many other genres for harmonies. Some songs have chords using many 7th or even 9th chords like in Jazz, some songs have simple 3 notes chords and some others just a bass line or riffs in some parts.
Demonstration instrumental track
You can use our demonstration instrumental track below to have a go at putting your lyrics and melodies over a Pop style instrumental.  The Demo instrumental was inspired by popular trendy pop songs like "Stay" by "The Kid Laroi" or "Light switch" by Charlie Puth. The song structure of this instrumental track is:
Intro x4
Verse x8
Prechorus x4
Chorus x8
2nd Verse x8
2nd Prechorus x4
Chorus x8
Chorus x8
Outro x4
SONG REFERENCES
Following references are here to give you  examples of what has been done with such a beat.
STAY – THE KID LAROI Feat JUSTIN BIEBER
It is very trendy to have productions that use the sound aesthetic of the 80s like in this dynamical song.

BLINDING LIGHTS – THE WEEKND
The Weeknd is known for its futuristic sound that also remind the 80s. Similar beat and energy than "Stay".

PHYSICAL – DUA LIPA
An other artist that have pop songs influenced by the 80s style.

LIGHT SWITCH – CHARLIE PUTH
Talented producer and singer-songwriter who recently released a fun Pop song worth listening to.

https://www.songacademy.co.uk/wp-content/uploads/2022/01/pop-music-for-website.jpg
1080
1080
Rowena Atkins
https://www.songacademy.co.uk/wp-content/uploads/2020/11/song-academy.png
Rowena Atkins
2022-10-28 20:09:12
2022-11-18 12:17:34
Spotlight on the Pop song genre